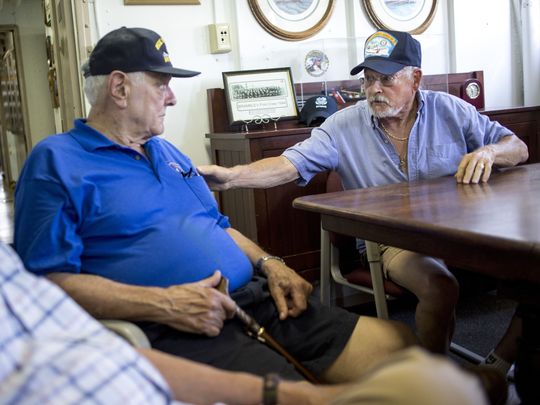 July 29, 2016 – Old Coast Guard crew recall Arctic mission aboard Bramble.
Six members of the 1957 Coast Guard expedition through the fabled Northwest Passage at the top of North America were aboard the Bramble and reminiscing. The Bramble was part of the expedition, along with the Coast Guard cutters Spar and Storis.
Two from each ship came to Port Huron at the invitation of Bob Klingler, owner of the Bramble, for the 59th anniversary of the historic voyage, which was the first through the Northwest Passage by U.S. vessels and the first circumnavigation of the North American continent.
The Bramble is the only surviving vessel: The Spar and the Storis were scrapped.
Ron Kubeck, who lives in Brighton and was aboard the Spar, had a question of his own when asked about his most memorable moment.
"You mean on liberty, or on duty?" he said.
Kubeck has the distinction of — unofficially — being the first person in recorded history to circumnavigate North America by ship. He was in the bow of the Spar when it arrived at its home port, Bristol, Rhode Island, on Sept. 24, 1957. The ship had left Bristol on May 19, 1957, and had traveled more than 14,000 miles.