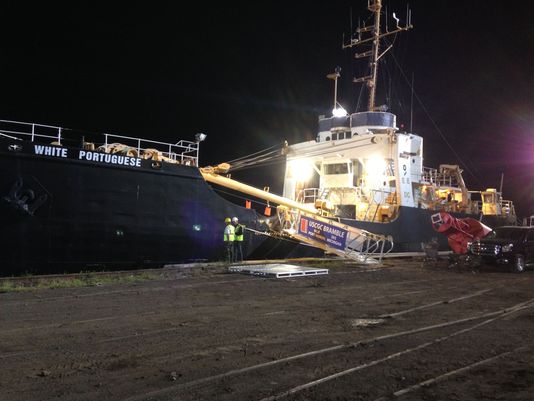 March 29, 2015 – "Bramble has Big role in Batman Movie" – Port Huron Times Herald
Amid all the familiar Metro Detroit locales featured in the film "Batman v. Superman: Dawn of Justice" is one that has been part of Port Huron since 1975.
The historic and retired U.S. Coast Guard Cutter Bramble, which normally is docked at the Seaway Terminal in Port Huron, has a pivotal role in the movie. The Bramble portrays a tramp steamer called "White Portuguese" used to smuggle a large shipment of kryptonite into Gotham City.
"It was a big part of the movie," said Bob Klingler, who has owned the Bramble since 2013 and operates it as a museum ship. This past summer, he and the crew finished returning the ship to working order and took two shakedown cruises into the St. Clair River and Lake Huron to work out the bugs in the vessel.
Full story: http://bwne.ws/1RqlXQY